Path // www.yourhtmlsource.com → Updates → EPISODE 5
Episode 5
---
Previous Updates
Episode 1 | Episode 2 | Episode 3 | Episode 4 | Episode 5 | Episode 6 | Episode 7 | Episode 8 | Episode 9 | Episode 10 | Episode 11 | Episode 12 | Current Updates
---
5th April 2001
That April fools day thing went downhill like a train since I was a kid. Although, today my mum came into my room with a really worried look on her face and proclaimed 'Larry Mullen left U2! All gigs are cancelled!' I mulled this over in my head for awhile before it clicked with me. Duh! Smart-ass radio station...
Also, I only have 3 exams left. Nicely!
And on a completely unrelated note: Advanced Tables — at least two articles in every section, baby.
11th April 2001
Yes! Yes; they're over. Marvellous, I get a couple of days off. Therefore, I must use this time advantageously. What the hell am I saying?
Let's start again. I've worked all day on the optimising images page, tweaking it for both readers and search engines. At the moment it's the best page on the site I'd say: popular and mammothly big. It is in the top ten on Google for 'optimising images' too, which is nice. Oh yeah, we also reclaimed the top spot for 'htmlsource'. And rightly so. It was probably due to all the quality incoming links from Yahoo and whatnot.
14th April 2001
Our improvement work continues with the favicon article. The site is now in a state where I'd feel confident letting people roam around and find something useful. I'm still getting people making some strange searches though. Even more hilarious however, are the ones that go on over at » EarthSource. Methinks the guy searching for 'garden of quiet moments' was being more than a little hopeful...
15th April 2001
To appease those poor saps who keep searching for the solution to non-underlined links, I wrote a beautifully short tutorial on it, which can be found...... here. Also, yesterday we reached our thousandth visitor, which was excellent. And I fixed the JavaScript section by adding shortcuts to two JSs we use on nearly every page — add to favorites and that ultra-cool linkbox thingy. Ace.
Today's crazy, stupid word to say out loud is: Blimp.
19th April 2001
Nice. I just found a new big site linking to us — » 123 Webmaster. Have a look at the ace description they gave us. It's close to what I sent them, but adds in even more hyperbolic praise. Well it makes us look good anyway, and that's all I care about. Now that's editing, Mr. » Open Directory! Squint at this. Right, I'm off to listen to the Batman theme tune for a few hours.
20th April 2001
Oh great. I got my exam results today. Despite being really quite good for an average guy, no-one seemed too impressed with them, including me, so I'm going to have to actually be serious about this thing now. See, in 6 weeks I have this thing they call the 'Leaving Cert.', which basically decides the rest of my life. So, if I don't start cracking books now, I'm probably not going to get that good job that I've always wanted. Whatever that may turn out to be, of course, I have no idea.
So what does this mean? Well, it means no HTMLSource goodness for a little while. It was a tough decision to have to make, believe me. Out of guilt for this, I wrote two articles to keep the site going — further image attributes and what is HTML?. Sshh! If my mum finds out I've been on the computer it's likely I won't need to worry about the future...
Happily, I found out today that I got into the second round of that website competition that I'm in. I've seen the other entries that got through and some of them are better than I had given them credit for, sadly. For resource value, ease of navigation and speed however, I think I have the edge on everything I've seen, so there's still buckets-o-hope. I now have to write to the webmaster of » RapMad.com (cool guy), to give him the bad news that he's not through. Actually, I think I'll leave that to someone else.
I'll probably pop in now and then over the next few weeks, but as of now, HTMLSource is on hold. In the summertime, it's all-out work right here, baby. Right here!
( Don't let this discourage anyone, there's a load of stuff on the site now — more than I remember even writing. Have a gander at the Full Index, you cheeky guy.... )
25th April 2001
Huzzah! HTMLSource got through to the final 5 websites in the » SUIA competition we've been in for the last month or so. From these five, three will be picked for the top prizes — hard cash. Plus, I only found out today that the money doesn't go to your school but actually to you, which increases the knee-shake-factor by a couple of notches.
I've been sent lots of congratulations from other guys in the compo who didn't make it through, which was very cool of them. Cheers guys.
I told my mum and dad about the competition last night for the first time. Thankfully, this serves as an excuse for me playing the computer so much recently when I'm meant to be studying. You should have seen their faces when I showed them what HTML code was too. Priceless.
And now? Now we play the waiting game...
5th May 2001
And we're still waiting. Well, it looks like the winners are going to be announced on the prize night (which I've been invited to, as a V.I.P, no less....great!), which is going to be fairly crap if I end up not winning anything. Other guys are telling me that one of the other sites has ripped off someone else's design, which is encouraging from a purely pride-fuelled perspective.
HTMLSource-wise, I've just been sending out emails to popular HTML sites asking for links. Thankfully, most of the webmasters are decent guys/girls, and so we're building up a nice library of linking sites. Once I have HTMLSource: Directory up and running (er... that would be in the summer), I'll make sure to return the favour.
Also, after a couple of emails, I've added a second text-table to the 216 safe colour-chart and 'tarted up' the main one so that you can see similar colours together; spiced up the html source intro page; and wrote some crap browser reviews. Nice.
10th May 2001

Nice! We came second in Ireland, which boosts my bank account by a very cool 750 quid. Yeah, yeah; it's not first, but I think it's fair to say my site was the better designed. It looks like it all came down to 'educational value'. Here — the one that beat me is » Astronomy Today. You can judge for yourself. Also, I was the only guy on my own, which was cool. I get all the praise and ALL the money. Ooh... yes.
The prizegiving was on Monday — a massive hall with 300 people there and a huge video screen. "Whoo, I hope they show the sites up there" I said as we walked in. Little did I know that they'd show this page up there. I had these little punks (who only came third — haha) mocking me for the rest of the day.
Perhaps the best aspect of the day was when a very nice woman came up and told me she was designing the new » Enterprise Ireland site (at least I think that's what it was), and she said she really enjoyed HTMLSource and that it was very helpful for someone who needed to learn HTML from the very start. As you can imagine, the fuzzy feeling was indeed being felt. Thanks.
Oh yeah, and some of my (highly jealous) mates might be checking out the site for the first time soon. Howdy guys!
13th May 2001
Ah, Die Hard. Is there anything you can't do? Surely the greatest film trilogy ever conceived. Not even the almighty Back to the Future presented us with characters as brilliant as Ellis. "Hans..... BOOBY!" Ahaha! Ellis, please, stop harassing me with your trenchant wit and mirthful grin! No Ellis! No!
I had to rid the site of my most excellent portraiture for a few days as too many people are showing it to girls. And people just keep sending me "Why.....?" messages, and nobody needs that. Rest assured, it will be back, as soon as my idiot friends get themselves lost. That means you Buckley!
And since one of my other idiot friends has had his interest in HTML piqued by an intense one-hour phonecall wherein I had to explain the subtle intricacies of the A tag.... wait, where was I going with this sentence? Yeah, he's thinking about learning HTML so he can make some easy money too, so I ran through the My First Site section again, and smoothed out some complicated stuff.
16th May 2001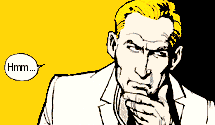 Ah yes, proof that I'm not a complete knob! See, that pose was from a book! A particularly superb Calvin and Hobbes book at that, which further compounds my vindication. It seems some people can't tell the difference between 'incredible arrogance' and a bit of 'self-mockment'. Tsk.
Anyway, the damn server has been down for the last two days, although strangely only on some pages. I don't know what the hell that is...
17th May 2001
Nicely! We got a very favourable review from this Irish webdirectory called » Doras, with a 4-shamrock score. The review goes thusly:
HTMLSource: HTML Tutorials


HTMLSource is a good site. Tutorials are provided on almost every aspect of coded web design from beginner to expert level including Javascript and so on. Considering so many are now getting into web design this is a great page to make a start at learning how it is all done.
This is a great tutorial site. The design and the content are very good. Navigation and access are no problem on this site.
Sounds positive, eh?
21st May 2001
Chop! There goes Episode 4 on its merry way. I'm still working on an Introduction to Stylesheets, but it should be finished soon. I expected to have it done over the weekend but literally had about 40 minutes of free time over the entire three days. Man. Plus, those impossibly important exams are in two weeks, which isn't a confidence booster when I'm sitting here playing computer.
Although, excellently, this morning I searched for 'html tutorials' at Google and we were on page 4 (with 20 results per page). Just a few minutes ago this evening I searched again and we're up to page three! Bloody excellent! Yet more confirmation that » Google is great.
22nd May 2001
David Blaine is the magicest guy ever. For every idiot 'masked magician' who goes around ruining crap tricks and inspiring cynicism, I find solace in the fact that there are guys like him walking the streets. That is all.
26th May 2001
Huzzah! Look up there, two updates ago, where I proudly proclaim that HTMLSource is in the top 80 HTML sites on Google. Now, try that search for 'html tutorials' again. What's that? In the top ten!? Yee-ess! This is fantastic news, as that was the specific search I was targeting, and these sort of results so quick is amazing.
I've seen an immediate rise in visitors, which had been increasing steadily for a month or so now. We'll be hitting the big time soon, I can feel it. Umm.. yes. Of course, I'll be keeping it non-commercial in spite of any success in the near future. Now all I have to do is catch 'html source'. It's amazing how many people think it's two words. Look: 'HTMLSource'. Do you see?
Following this success, I've decided to disseminate my efforts a bit more, because despite Google's excellence, it still isn't the most popular search engine. Therefore, I tidied up our keywords and description and resubmitted to AltaVista. Oh yeah, a few of the articles got into » Dmoz the other day, surprisingly. I was just chancing my arm and they snuck through, which was class.
28 May 2001
What have I done to deserve all this? Now we're up to number 5 for 'html tutorials'! Having annihilated the irritating competition, HTMLSource has now also taken the top spot for 'html source' too. It has taken a lot of work, but we're finally seeing some damn good results. I don't understand how either, as Google hasn't re-indexed the homepage in over a month and the sites that are linking to us are the same as always. Anyway, I don't give a crap about the » internal machinations of Google, but I do approve of their excellence.
I'm just going over the site looking for parts that need 'tarting up'. Each section now has a lovely boxed-in intro, which is cool. I'm going to be spacing the text in the tutorials out more, by using more paragraphs and lists. It'll mean a modicum more scrolling, but will look better and make things more clear.
31st May 2001
Gah?! Everything I said last update about our search engine placement has gone back to the way it was before. It must have been a server glitch or something... How could a glitch be that cruel?? Ah well, we're still in the top ten, I'm just going to have to focus on getting a load of links to HTMLSource. I checked on the competition, and reckon I need about 300 incoming links. Currently, I have about 100. Sigh. So, if you have your own site, make sure you help us out to gain the fame we deserve. Check out the Link to Us banners, or just add a text-link, I don't mind — it's your site.
Also, if any of you have a site that you'd like to have mentioned here, send it to me. It will be displayed for all in the cool links page, where our first entry is now. Check it!
3 June 2001
Jesus. The exams start in three days, and go on until the 18th, upon which time I will be the freest guy ever. This summer, as I have already surmised, I plan to do a crapload of work on HTMLSource. New sections, loads of new tutorials, lots of promotion — everything.
I haven't written much in the last month, due to the 'mountains' of study that I'm glad I've done, but hey — come June 19th, this page will start to cry out with all the new stuff I'll be announcing; as opposed to being a place where I lay down paroxysms of rhetoric, as has been happening for the last while. Where else can I do it, huh? Amongst friends it sets me off as quite the pariah...
12th June 2001
Hello everyone. All enjoying your summer holidays? Good, good. Make sure you have as much fun as you possibly can, while I'm stuck here studying and feeling the intense pressure of these exams. Actually, none of that is happening, but there are some guys taking the pain. I guess the most constructive thing for me to do is to laugh at their weakness. Haha!
Luckily, I'm a pretty calm guy. My whole year all seem to be quite laid back about all this really, which is fairly cool. The exams have been going alright, or at least were until yesterday. I was just saying 'these are going far too smoothly' before going in and, well, as you would expect things went downhill. Ah well, I'm not too worried — things usually seem to work out ok. Plus, I've had an extended-period of good luck recently. And dammit if I didn't deserve some. Which reminds me to write up my theory on luck sometime over the summer....
Hmm... I don't think I've ever gone that tangential here before. Umm.. what was it I came here to say? Oh right: HTMLSource. I have tomorrow off, so I'll do a bit of work and get some stuff to think about for the next week. I added a bit of SASS to the left side of the screen with a dashed border today, plus I redesigned the link up to navigation to a very cool box, like this:
Beauty.
13 June 2001
I went over the whole site looking for design elements that I didn't think were great, and sorted 'em out good style. Yesterday I fixed the vague left-margin and the navlinks, today I got rid of these cumbersome headings:



The new ones (check out the super-slick new Full Index) load 8 times faster, and look far better too; especially when used as the heading of the newly-styled search box. Aces.
Exams are.... nearly over.
18th June 2001
Observer 1: What the hell is that running down the street?
Observer 2: I dunno. It kinda looks like some sort of wild, drunken monkey...
Me: Yyyyyyeeeeeeeesssssss!!! *Kapwiiingg!*
style="border-top: 1px dashed #99c; padding-top: 0.5em">But wait, there's more: Episode 6.
---
Previous Updates
Episode 1 | Episode 2 | Episode 3 | Episode 4 | Episode 5 | Episode 6 | Episode 7 | Episode 8 | Episode 9 | Episode 10 | Episode 11 | Episode 12 | Current Updates